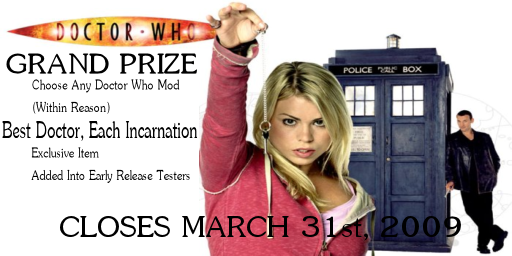 Okay its challenge time! This is a competition to see who can create the most realistic and accurate Doctor!
The Best version of each doctor will be used in a Special Regen package, allowing your sim to Regenerate into each Version. Each winner will also win a special exclusive Doctor Who Item, never before released. The GrandPrize winner for the best overall will also be entitled to name any Doctor Who Mod they would like to be created (within reason).
Read Below for rules....

In order to qualify in each category you must meet the following criteria:


Be any of the Doctors, not companion or other timelord
Must be wearing an outfit seen in the show
Cannot use other modders creations, must be your, or maxis, unless u have permission
Package Files must contain all necessary files to see sim in game
Must include a screen shot pose from in game of Sim in Action, to be used in judging
Each entry will be scored out of 10 in 4 categories. (Hair, Face, Body, Clothing)
Closing Date will be March 31, 2009.

Entries can be emailed to Dragon.Sire@hotmail.com

Lets see what you got!